How to Brand Your Wedding
More and more these days couples are looking to make their wedding stand out.  They want it to be something unique and to tell their story.  If you are engaged it is important for you to get an overall look and feel figured out at the beginning of the planning process so that you are able to create the most cohesive look for your big day!  Will you have a theme?  What will your colors be?  Is there a reoccurring element that will be used?  By learning how to brand your wedding you will be able to keep things consistent and things will flow together beautifully and effortlessly.
WHAT IS WEDDING BRANDING?
This is my way to "marry" my two loves of the wedding industry and branding into one amazing new service and I cannot be more thrilled!  Wedding branding is a one-of-a-kind experience, which is built to simplify your event while creating a brand for your event.  It is the overall look, feel and color pallet that you choose for your big day.   It provides you with a seamless look for your wedding, all while telling your unique love story through design.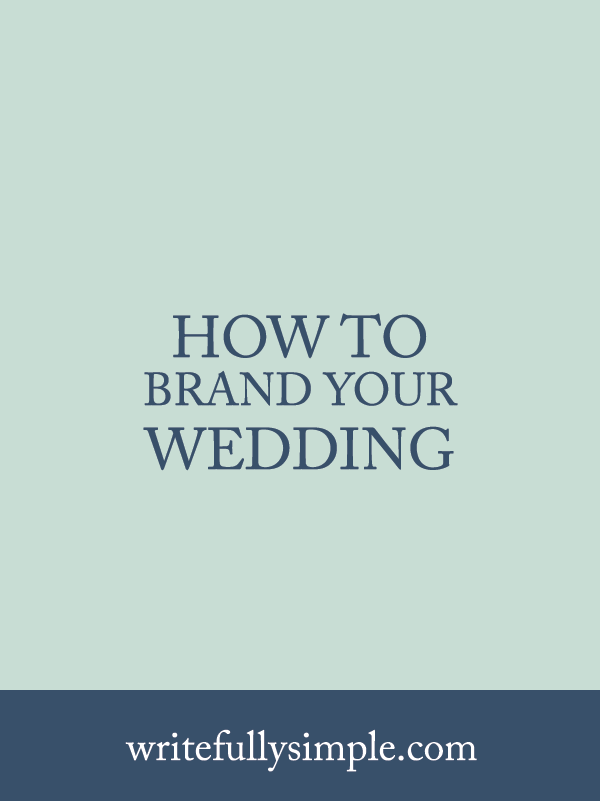 WHY SHOULD I BRAND MY WEDDING?
By branding your wedding it will allow you to use the information for all aspects of your wedding. It will help everyone from the wedding planner, the florist, the stationery designer, the photographer, and the caterer to stay on track and be able to create pieces for your wedding that fit together beautifully. A wedding stationer can assist you with this process, and provide you a finalized inspiration board that you while you are planning your wedding.
INSPIRATION
Most brides go to Pinterest to collect inspiration for their wedding day. Create a secret board for your wedding and start pinning images that represent you as a couple and how you envision your wedding. This could be anything from dresses, decorations, flowers, stationery, colors, etc.  Pretty much anything that when you look at it makes you think of your wedding.
All of these images tell their own story, and once they are compiled you can sit back and see similarities throughout the board.  You will notice the reoccurring colors, the overall feel and the aesthetics of what is displayed.  Do you want your wedding to be more modern? Romantic? Rustic? Your inspiration board should help you narrow it down, so you can build off of it for all the other aspects of your wedding.
COLOR PALETTE
From the images that you pinned, select the most prominent colors that you are noticing and then pull them into the color sections in the mood board.  This will help create your wedding color palette. Choose about 4-5 colors that you are most drawn to.  Now start to think about your dress, your shoes, the tuxes/suites, the bridesmaid dresses, the flowers, the cake, the decorations, etc and start to pull those color into those different parts of your wedding.
TEXTURES
To find textures that you may want to bring into your wedding take a look at your images again.  Are you seeing stripes?  Glitter?  Florals?  Are they more rustic?  You can use these textures in your decorations and even in your stationery pieces!  Your stationery is like a little informative sneak peak into your big day – take it to the next level and have fun by bringing the textures and colors into your wedding suite and let it set the tone for your wedding.
FONTS
The fonts that you end up using is probably one of the biggest pieces of your wedding is that is so overlooked and never really even thought of until you start to work on your stationery.  Fonts are an incredible way to incorporate the overall feeling of your wedding.  Do you love calligraphy for a more elegant look, brush script for a playful feeling, or serif for a more traditional feel?  Your designer will help you choose the correct style for our pieces.
LOGO
Did you know that weddings have logos? Well, they do and it's a-mazing! You can use a logo in your stationery – from your save the dates, the invitations, the cocktail napkins, other reception stationery and thank you cards.  It's just another way to personalize your wedding in a beautiful and elegant way!
What are some things that helped you brand your own wedding, or do you brand weddings and is there something that you love to do to brand weddings that I may not have mentioned?  I'd love to hear all about it!
I offer custom designs with branding services included, and a wedding branding package to include a website. I also have semi-custom designs for the couples who are on a budget.  If you have any questions let's chat!