So you've got your domain name locked down, and your hosting is ready to roll. What's next? Designing your website, of course – which just so happens to be my FAVORITE part!  Finding the right WordPress theme for your website can make or break your website.  Well, not really break your website, as in it won't work but it will not make sense with your brand if you use the wrong theme.  Luckily for you, there are literally thousands of themes that are right at the tips of your fingertips just waiting to be discovered!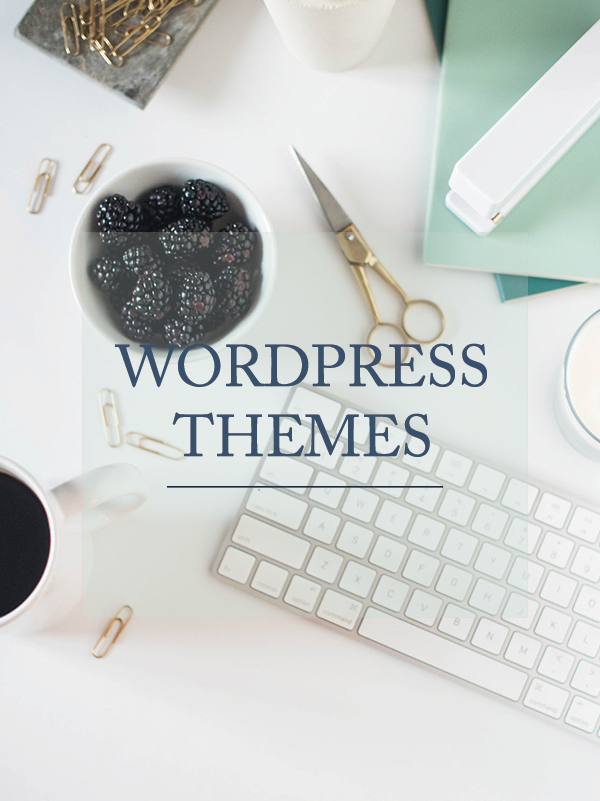 What are Themes?
Themes are templates that you build your website on.  They will affect the way that your website looks, the way it's laid out, as well as how it will function. Choosing the right theme is probably the most important part of this entire design process. By figuring out what you need out of your website and what you need it to do for you, is one of the first steps in finding the right theme.
Why, you may ask?
Because certain themes will allow you to do certain things with your website that others will not.  If you end up buying a theme that does not do what you need it to, then you just wasted your time and money and end up totally disappointed.  At this point, you do have a few options.  You can just sit and wallow in your disappointment, you an purchase a new theme and design your website once again, or you can hire a web designer to work their magic to get your website functioning the way that you want.  And let's be real – none of those options sound that stellar.
How to Choose the Right One?
Well, unfortunately, there is no easy way to figure this out and I cannot just point you at a theme and say here you go, this will be perfect for you.  Why not?  Because, the theme that is right for you may not be the right theme for the person sitting next to you.
Every blogger and online business owner has different plans and goals for their website, so it makes sense that every website needs to be a little bit different, right?  So what I have all my branding and website clients do is to have them begin writing out a list of all the things that they need and want their website to do for them and their business.  And be sure to think long term, as well.  Not just what you need now.  You will want to buy a theme that can grow with you.
Start by asking yourself these questions:
Is blogging my main focus?
Do I need a homepage that is designed differently than my blog posts page?
Do I need e-commerce to sell products and/or services?
Do I need a sidebar on the left-hand, or right-hand side of the page?  Or not at all?
Do I need an option to create landing pages without my header image at the top?
Next go online and find at least a handful of websites that you love.  List all of the different things that you love about the website – from the layout, a slider, the testimonial page, contact form, buttons, etc.  Once you do that you will begin to see a pattern.  Don't just pay attention to the aesthetics of the websites either.  Be sure to focus on the functionality of them, as well.  I know, this part can be tricky.  You see all of these pretty demos and it's everything you ever wanted out of a website (visually anyways), but if it's not capable of doing the things that you need it to do than it's just a waste of time and money.
The images, colors, and fonts can all be changed in a theme, but functions and the layout of a theme cannot be changed – unless you know coding or are comfortable using a drag and drop page builder plugin.
Where Can I Buy Themes?
There are so many places that you can buy themes, but here is a list of some of my favorite places:
But please, no matter where you buy your theme make sure that the theme will work for you and that it will do what you need it to do.  When you purchase a theme you will be provided with documentation on how to customize the theme with some of the more basic tasks.  Many will even show you how to set it up like the demo.  And if all else fails, you can always reach out to their customer service.
How to Install Your New Theme
Awesome, you have found the perfect theme and now it's time to install it so you can begin designing your website. First things first – log into your website.  You will be taken into your dashboard.  Feel free to play around in here for a bit and get comfortable.  This is your website's home – it's where all the magic happens!  You are going to want to be sure that you have easy access to upload your theme.  Here is a screenshot of what your dashboard will look like.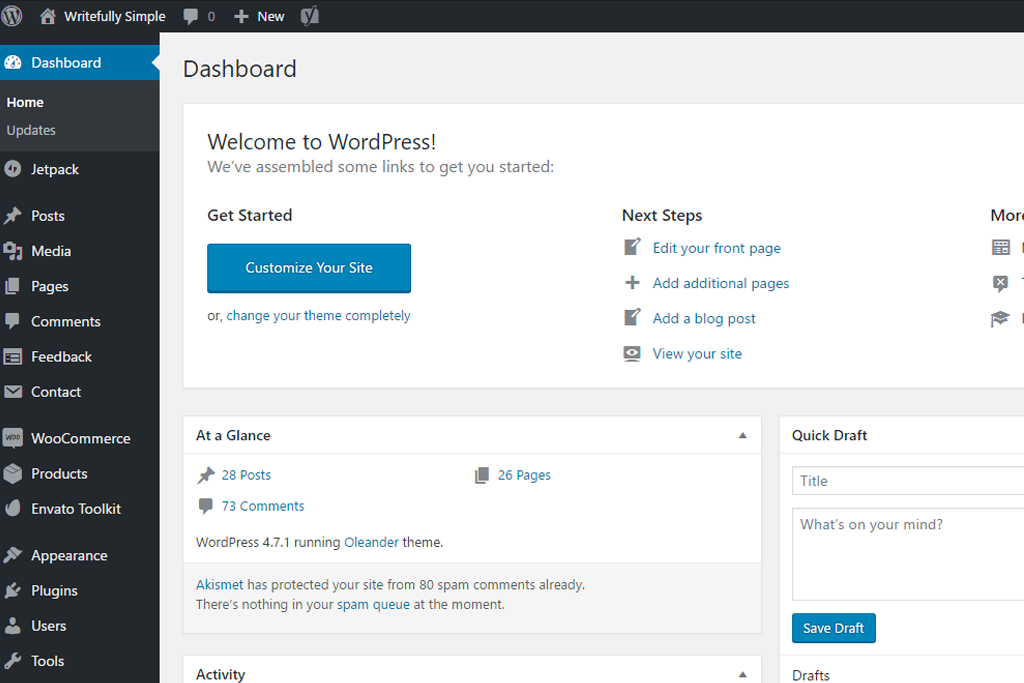 Click on the change your theme completely text.  You will be taken to a new page and select to add new to upload your theme.  Choose upload your theme, choose your file and then install now.  If you are getting an error that a style sheet is missing, or an error that the theme upload has failed there is more than likely an easy solution so no need to panic.
First, be sure that you are uploading just the theme zipped file – not the entire download package that you received when you purchased the theme.  The nice thing is with some vendors, there is an option to download the theme folder separately and then the documentation.  Once you have just the theme folder, be sure that it's zipped and upload that puppy!
Now that your theme is uploaded it is time to start building your website by adding pages, posts, plugins, adding customizations, etc – which is exactly what I will be covering in the next post.  I will go through your dashboard, show you how to get things started and provide you with some tips on how to customize the heck out of your theme.  But in the meantime, if you have any questions at all please comment below!  I'd love to be able to help you out any way that I can!  Until the next post friends…