Welcome back to the final post in my WordPress tutorial series.  This last post is going to touch base on some basic website design.  I am going to be sharing some tips and tricks in order for you get a good grasp on designing your website.
Before we get started, I need you to keep in mind that although I will be covering a ton of useful information there is no way that I can cover every aspect when it comes to web design in one post.  There are always new features coming out, better coding, etc so I will be covering the basics so that you can at least have a solid start while working on your own website.  I am a self-taught website designer and to be honest my best friend when starting off was Google, and YouTube videos.  So if there is something that I may not cover here, seriously – there is probably an article or video out there that can help you out.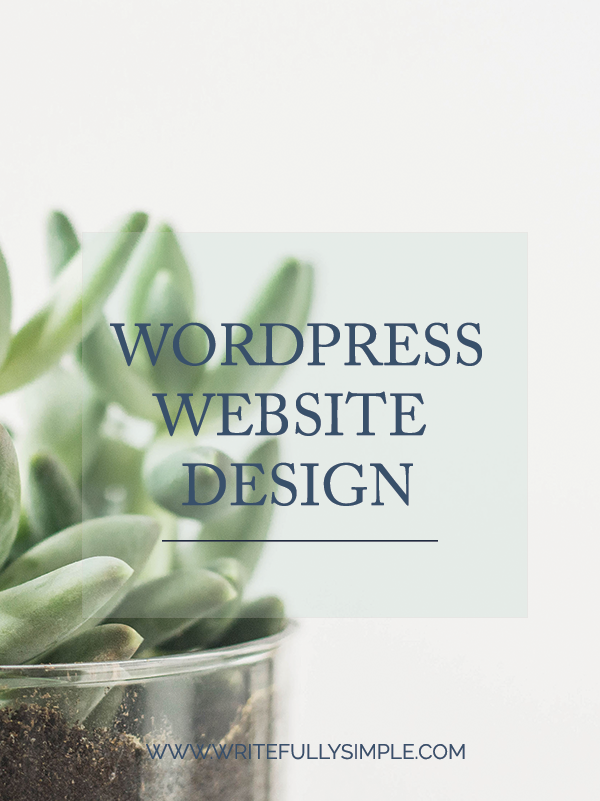 WordPress Website Design
Before you focus on the way your website looks, you need to think about how you need it to work for your business.  The first thing you need to do is think about the main goal of your website.  Do you need it to sell products, sell a service, reading your blog, or signing up for your email list?  Whatever the goal may be, make sure that you keep this in mind when you begin designing your website.  This is what you will want to build your website around while making it the main focus.
Once you have your goal in mind, you will want to ensure that your readers are able to find your products, service or blog first and foremost.  You can achieve this by making sure that your website is easy to navigate so that they can find what they need in the most efficient way possible.
A Well-Designed Website
When it comes to a well-designed website, having a strong sense of your brand is extremely important. If you are able to pull different brand elements into your website it will increase the aesthetics of your website ten-fold, plus it will make your website cohesive with your brand, which is so important.
While designing your website you will want to ensure that you are keeping things consistent.  Meaning, you will want to use the same 3-6 colors and the same 2-3 fonts throughout your website.  A few other things that you can pull your branding into your website include:  a header image (your logo), your sidebar (social media icons), branding graphics (floral icon, patterns on buttons, etc).  Also when using images throughout your website on the different pages, make sure that they flow nicely with one another.
Once you've created these images you will need to upload them to your Media Library, so that you can use them throughout your website.
Customize the Appearance of Your Website
To customize the appearance of your website, you will want to focus on two different sections within your Dashboard.
Customize Screen
The Customize option, which you can find by going to the Appearance tab in the left-hand sidebar within your Dashboard > Customize.  I love this option because as you are making changes to the different options you can see the changes live.  The changes that make do not go "live" until you actually hit Save.
Within this area, you can do things such as:
Change your logo or header image
Add/change social media handles
Add/rearrange or delete widgets
Change colors
Add in Custom or Additional CSS
Please note that every theme is a bit different, so you may have all of these customization options or you may have less or possibly a lot more.
Theme Options
You can find the Theme Options going into your Dashboard and selecting Appearance > Theme Options OR you may find it on the top bar in your Dashboard next to where you can add a page or post, or view comments.
Within this area, you can do things such as:
Change your logo or header image
General styling – changing color options
Adding header or footer information
Add/change your social media profiles
Change the blog layout
In this view, you will not be able to see the changes happen live.  You will actually need to save your changes in order to see them reflect on your website.
Theme Stylesheet
Another way to customize your website is within Theme's Stylesheet.  In the stylesheet, you will be able to add and edit CSS.  If you're a beginner and not very familiar with CSS I would suggest not even bothering messing with this method.  Mainly because if you accidentally delete something that should be included then you could quite possibly break your site.  And again, if you are not familiar with how to fix it then it can be quite the pain in the butt.
Above all else, remember that your website design is going to be a project for quite awhile.  As you go through and are designing you are going to notice changes that need to be made, or think of something that you would like to alter to improve your website.  Be sure to give yourself some grace too during this process – definitely play around with your website to see what works for you, what doesn't and don't be afraid to experiment.  You can always change things as you go.
And if you need a bit more information on designing your website hop on over to 3 Reasons Why It's Important to Have a Well-Designed Website and Creating a Website From Scratch.  And of course, if you run into anything you have questions on or need help with anything feel free to reach out!  I'm more than willing to help you all out however I can!