3 Reasons Why It's Important to Have a Well Designed Website
Let's do a simple experiment, shall we?  Head over to Google and type in a term that you are interested in or something you currently need information.  Click on a link that appears to provide what you need. Now, answer a few simple questions.  Is it easy to navigate?  Is it difficult?  Did you find what you were looking for?
If you can quickly find what you need and are looking for on a website, it's because it was designed well, with the user's experience in mind.  The design of a website is crucial because it affects how your audience is able to find what they are looking for.  If someone goes to your website and they are unable to find what they are looking for, or if it's frustrating to navigate, or if it doesn't load quickly you are losing a business opportunity.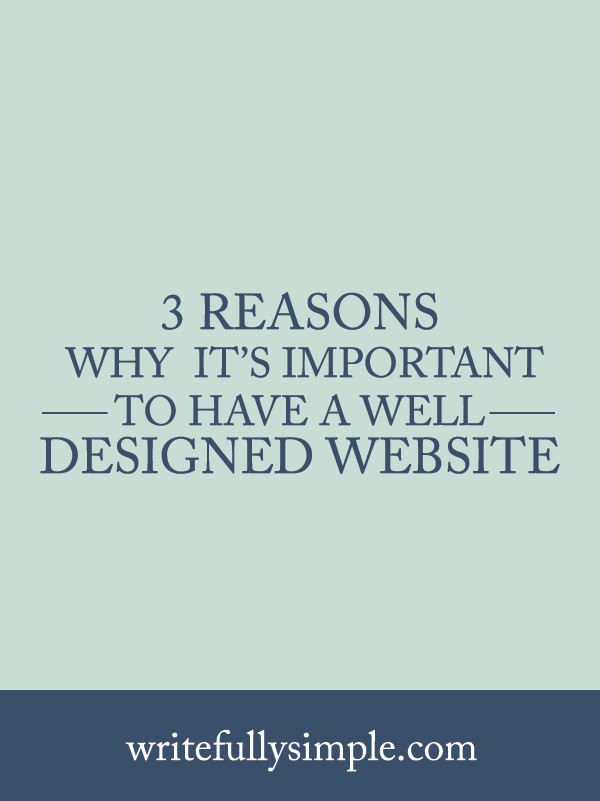 3 Reasons Why it's Important to Have a Well Designed Website
First impression of your business.  Your website is potentially the first impression that a potential customer has of your business.  It is one of the most visible aspects of your company. Your website design may be the defining factor between a potential customer doing business with you or going elsewhere.  Make sure you make an impact right from the beginning.
Potential to increase inquiries + sales.  Having a website and online presence strategy allows you to market your business online.  Being visible means that you are more likely to gain more customers, which in turn generates more inquiries and sales, around the clock – from people all over the world!
Builds credibility.  Your website is an amazing opportunity to show potential customers why they should trust you.  By including things such as testimonials, and facts in order to educate them you are providing word-of-mouth referrals and proving your expertise.
Now that we've gone over 3 reasons why it's important to have a well designed website – what else would you add to the list?
Is your website designed as well as it should be?  Have a couple of friends, that you know will be honest with you, go through your site.  Were they able to find what they needed?  Was it difficult or easy to navigate?  If your website is not up to part contact me and let's take your website to the next level.