Creating a Website From Scratch
So you're ready to rock out a beautiful website, and although you would truly love to hire someone it may not be in your budget at this time.  Trust me, I get it.  I was there three years ago, and I taught myself everything I know today through trial and error, lots of googling and You Tubing things I did not know how to do and also by asking my awesomely amazingly smart husband who is a "bit" of an IT nerd.  If you are on the journey to creating a website from scratch read on!
This blog post is dedicated to helping you out as much as I can.  I will be going through some basic things you will need and a few tips and tricks so that you will have a good, solid start!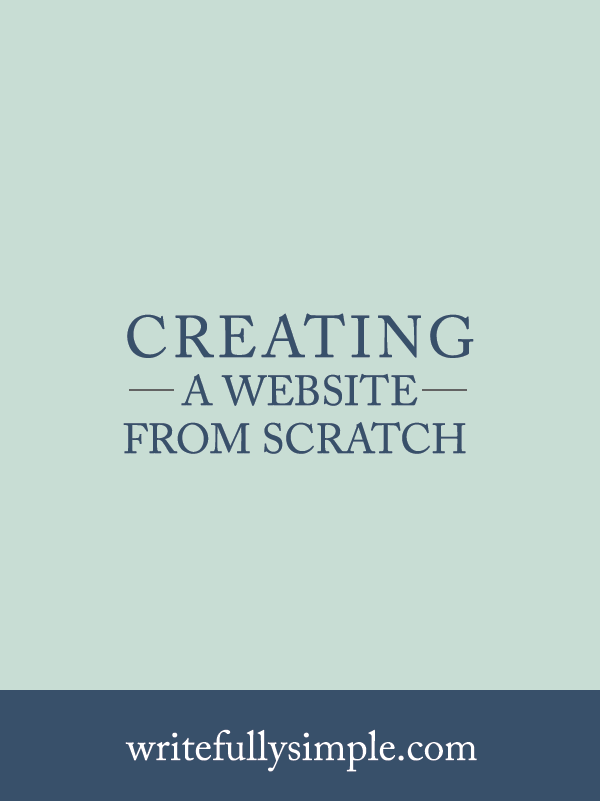 Basics
Here are some of the most basic items that you will need in order to start your website.  Some of them are quite obvious, but others you may not have thought too much about or even considered.
1.  Business name + tagline.  This is kind of a given, isn't it?  Your business name should reflect your mission and vision of your business.  You will want to create a business name that will be able to grow with your business, and that makes sense to the products and services that you offer.
When I started Writefully Simple I asked for opinions from those that I trusted most together we narrowed down the best options and after much thought, I went with what I believed to be the best choice.  Don't be afraid to ask for help or opinions to those closest to you.  They know you well enough to give you some constructive feedback and be sure to ask those that understand what you are trying to accomplish with your business.
Taglines actually fulfill a very important purpose; they let you quickly and efficiently sum up what your business is all about.  They take out the guesswork and make your message clear in explicit terms, and helps to set you apart from other companies that provide similar products or services.
2.  Contact Information.  This one doesn't need much of an explanation.  Without contact information how in the world is a potential customers supposed to contact you?  Be sure to include an email address, phone number and address if you have a location where customers can stop by.  For me, I work out of my home so I do not list it.  I do not want random people showing up at my home, where my kids are.
3.  Domain + Website Hosting.  You will want your business name included in your URL.  So for me my business name is Writefully Simple and my URL is writefullysimple.com.  Sounds pretty simple, right?  Finding a domain name that is not already taken can be quite tricky.  So when you are thinking of a business name be sure to check out domains at that time to reduce complications down the road.
In order to publish a website online you need a web host.  A web host stores all the pages of your website and makes them available to computers that are connected to the internet.  Most websites that you see are on a shared host, which is a single computer that can host several hundred websites.  Other websites, particularly large websites with a large volume of traffic, often use a dedicated host, which is a single machine that hosts only one website.  Finding a good web host isn't hard, since there are so many available.  Just make sure that the website host that you choose offers good technical support and ensures little to no downtime.
4.  Social Media URLs.  Kind of another obvious thing that you will need but I just want to put it out there because it is so important.  Be sure to get social media links with your business URL, so that potential customers can easily find you on different social media platforms.  Some of the most obvious ones include:  Facebook, Instagram, Pinterest, Google +, Twitter, etc.
5.  Brand Style Guide.  This one can be pretty tricky but it's so important so that you have a brand style guide.  A brand style guide is a single document that defines your business brand elements (fonts, colors, photography style, etc), and how they should be applied across marketing materials, your website and other branding materials. It's something to reflect back on if you or someone else in your company needs guidance on how to apply your brand to various avenues in a consistent manner.
6.  Theme.  There are thousands of website themes out there.  A theme is basically a website template that you can customize so that it fits your brand.  It's a simple solution for when you need a website quickly, and if you are unfamiliar with coding.
Before purchasing a theme you need to figure out what you need your website to do.  Do you need a shop? Is your website more of a blog or are you trying to promote your services/products?  Do you want more of a clean layout with lots of white space or a single scrolling page layout?  Some fun homework would be to go to the websites that you know that you love and write down all the things you love about them and find reoccurring elements.
Now go and search for themes and play around with the live demos that are available so that you can see the different options are, what different page layouts look like, see what some of the elements are, or how you can easily customize different items throughout the theme.  A few of my favorite places to find themes include:  Creative Market, Restored 316, Angie Creates, Pretty Darn Cute, and BluChic.  Your theme should come with some basic tutorials on how to customize your theme and use the features that they offer with that particular theme.
Planning
Now that you have the basics done and out of the way it's time to start doing some planning before you start plugging away.  It's time to gather some content and images for the different pages that you will be including in your website.  Here are a few things to add to each of the pages listed below.
 1.  About – This is the best place to tell your readers who you are and what your business is all about.  Try to concentrate more on the business side of things, but definitely show them who you are. By showing them you and including some fun facts, or making things a bit more personal you become a real person which makes you easier to relate to.
2. Services – This is where you can elaborate on the services that you offer customers, prices, timelines and any other helpful information regarding your services.  Some people include pricing, some do not.  I chose to so that I can narrow in on my ideal clients.  It also helps to reduce the inquiries from those that are not willing or able to invest in my services or products at this time.  I'm all about efficiency and time-saving tricks and this one has been instrumental.
3. Portfolio – Showcase your best work here.  Do not just put any images for past work.  If there are projects that you have done in the past that is something that you are no longer interested in, or that does not line up with your ideal client do not list it.  Only show those that you want to continue to do more of and be sure that the images are of great quality.  If you are able to, invest in someone that takes pictures of products or that can do branding images for you.  I did, and it's one of the best investments that I ever made for Writefully Simple.  Need a recommendation?  Check out Katie over at Kate Larraine Photography.  Her work is simply beautiful, elegant and she is downright amazing!  She got my vision right from the start and was so easy to work with!
Testimonials – Word-of-mouth referrals iarethe best way to gain customers.  Think back to a time when you or someone you knew had an amazing experience with a business.  How many people did you tell and did they end up checking it out for themselves?  Now, what about a time when you had a bad experience?  Get testimonials from past customers and put them on your website.  People do read these and take them into consideration.  I know when I go to a website – Etsy, Amazon, etc and find a product I am interested in — if the reviews are bad I move on.  This is a great place to prove to potential customers how awesome you really are!
Blog – I highly recommend having a blog in order to show your expertise in your field.  It's also a great way to improve your SEO.  Whether you blog daily, a few times a week, once a week or once a monthly be sure to put out solid content.  Don't rush through a post just to put something out there.  I find it best to do a couple posts in one day, schedule it so that when those are going live you are already working on your next batch.  This way you are staying ahead of the game (and yourself!).
Press – Have you been featured in a blog, a magazine or elsewhere?  Feature those babies here and brag about yourself a little.  You don't necessary need to do it with words, but even if just putting the logo of the other company where you were featured in and then linking to your feature does a great job all on it's own.
Shop – If you have products to sell do that here.
Contact Page – This one is a no-brainer.  If you do not include a way for a potential customer to contact you your inquiries and sales are severely compromised.  Don't just give them one way to contact you either.  Include a contact form, list your phone number, hours and business address if applicable.
Organize
Now organize your content and figure out the best way to display it.  You will want to make sure that your website is easy to navigate.  Once you have the pages for your website all figured out, consider where you will want them displayed.  The main navigation menu typically includes the home page, about, services, portfolio, shop and contact.  From there you can have drop-down menus to elaborate on those main items.  For instance, if you are a photographer under services you can break it down to sub-menu items such as family, seniors and weddings.  That way your potential customers can go right to where they wan to go.
Sidebars are a great space fillers while showcasing your social media profiles and a little "about me" blurb.  Do you have people who want to advertise on your website – put it here.
Aesthetics
Finally, bring your aesthetics into your website.  Pull in your brand colors on certain items – headings, borders, use your pattern as the background image.  Just keep your brand in mind with every change and keep things simple. Everything that you have created, gathered information on or prepped up to this point should be brought into this aspect of website designing.  Play around with the layout and the theme options here.  This is where the magic happens and you can bring your website to the next level.
Above all else, remember to have fun — and possibly grab a glass of wine or a nice cold beer or two!  You will get frustrated here and there, but push through it and try to enjoy the ride!
Is there something that you found to be helpful when you created your own website, or is there a piece of advice that you have found extremely helpful?  I'd love to hear!  And if you have any questions let me know!  Also, be sure to check out WordPress Plugins to Improve Your Website.  If creating a website from scratch is something that you are just not interested in pursuing than let's chat – I'd love to help you create a beautiful website for your business!