6 Ways To Streamline Your Business
Over the last six months or so I have been working hard on what goes on behind the scenes at Writefully Simple. From the systems I use, the automation of certain things, my processes, and the customer experiences.  I wanted things to flow better, for things to be easier and just overall work better for myself and my clients.  Plus I wanted a system to be in place so that when life happens (kids get sick, vacation or something else unexpected pops up) I am not overwhelmed by the unexpected.  Today I am going over 6 ways to streamline your business to make things easier for you – and allow your business to continue working for you!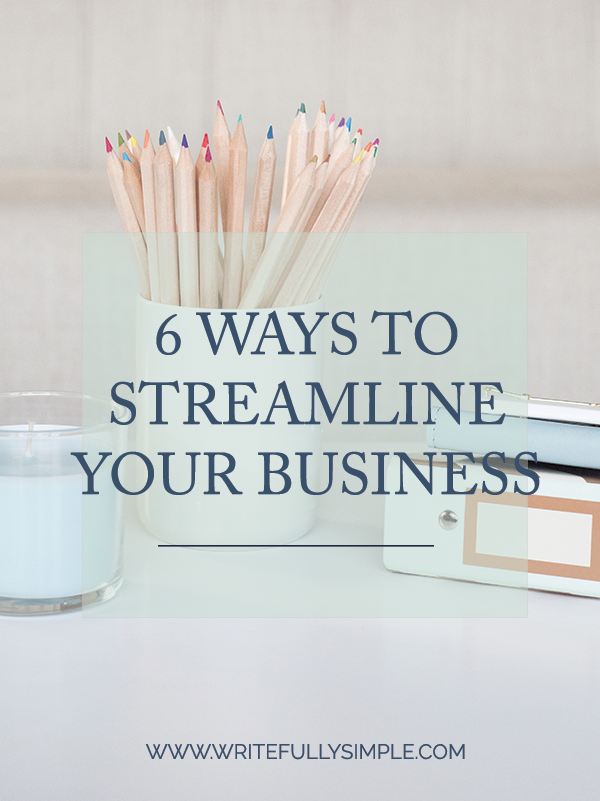 6 WAYS TO STREAMLINE YOUR BUSINESS
Automate Your Social Media Posts – There are so may ways that you can schedule your social media posts.  My favorite scheduling app for Instagram is Later.  I love that you can pull the app up, schedule everything and type in your content + hashtags at your computer.  This is huge for me, as it so much more convenient and efficient instead of having to type it all out on my phone.  Some other great tools that you can also use include Coschedule or Buffer, which is built for multiple social media channels.  These tools have helped me immensely by allowing me to schedule and walk away (minus the 30 seconds it takes to push the post on IG with Later) and not have to worry about missing a day or two.
Automate Your Blog Posts – WordPress has a great scheduling tool built into blog posts. Instead of automatically publishing your post you can schedule a specific day and time that you want your post to be published.  You can also push your posts through a variety of other social media channels by connecting them to your WordPress site.  I have time blocks scheduled where I sit down and write a couple of posts at a time, schedule them and by the time those have been published I already have a few more lined up and ready to go.
Automate Your E-mails – I just started to use canned responses for a variety of emails that I regularly send out and it has saved me so much time.  I found myself typing the same things over and over again, and it was time-consuming.  With that said, I have never been one to love canned responses when I receive them myself. So although the bulk of my email responses are canned I absolutely go through and personalize every single email that I send out so that it doesn't sound like they are just receiving another email.  I want each person that reaches out to me know that I am behind the computer and I am hearing what they asking.  The canned portion of the emails is more of the basic Q & A and I pull them into the email to make it relevant for each and every person.
Dubsado – Dubsado is a newer client management system, which has been life changing for me.  I have all of my canned e-mail responses, contracts, forms, questionnaires, workflows, client portals, calendar/to-do lists all in one place.  Plus my clients can even pay for their products and/or services right through them using Stripe, and can view their open and closed invoices.  One of the things that drew me in right away is that you can brand your forms to fit your branding, which does not show their logo anywhere.  It's just me – or Writefully Simple.  Boom.
Dropbox – With Dropbox I can share files with my clients, or other collaborators without having to worry about the size or quantity of files that I need to share with them.  It's all in one place, that can be accessed through a link that you provide them at the beginning of the project.
Templates – Blog + Social media  graphic templates  – By having premade templates for blog posts, Instagram, Pinterest or other social media platforms, or for other areas of your business that you find yourself constantly recreating – it allows for you to quickly open up the files, edit the content/title and images and save.  Swapping out images and content on blog post images now only takes me a couple of minutes compared to 10-15 minutes when I was creating each one.  Fast, simple and oh so awesome.
I hope that these tips and tools will help you automate your business so you can stay more organized, save some much needed time, or when life happens or you are just going to take some time off that your business will continue to work for you!  What are some of your favorite tips or tools that you use and love in your business?  Comment below and let me know!