Why You Should Hire a Stationer
Let's be honest here.  Wedding are expensive.  You have to pay for your venues, vendors for various services, a gorgeous dress, flowers, decorations, entertainment, and of course my favorite – stationery!  And once you start going through the lists of everything you'll need, digging into how much it will cost you may start to panic a little and try to figure out ways to cut costs.   Do you cut your guest list?  Do you go for real vs artificial flowers or non-floral center pieces?  What can you DIY instead of hiring someone to do it for you?  And for some reason, invitations almost always make the DIY list.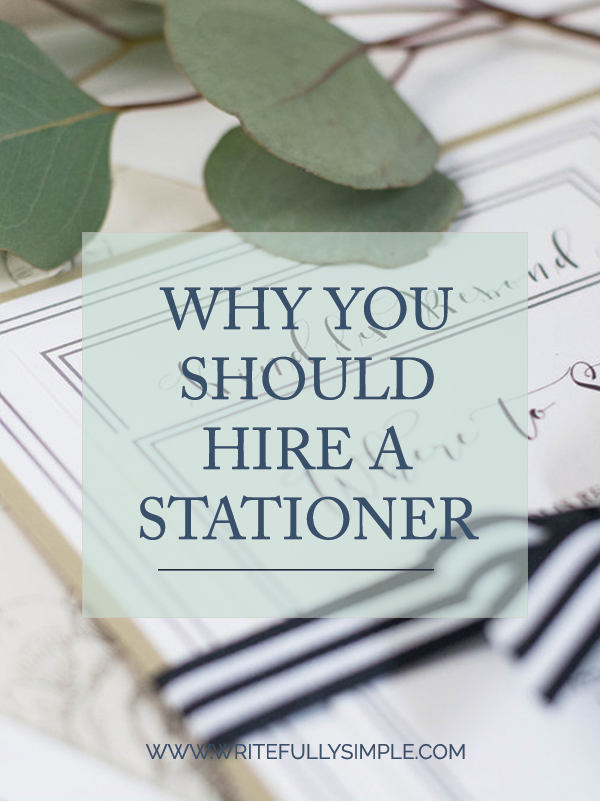 Why?  Well it all seems pretty simple and straight forward right?  I mean all you really need to do is buy some paper & envelopes and come up with a super cute, bomb-diggity design, right?  Sure…to a point.  But more than likely unless you're really familiar with paper (trust me, paper can be totally confusing) you will probably end up having to back to the store a few different times because something just didn't work out – the paper was too thin/thick, it didn't print out right because you had the settings set wrong…and on, and on.
And let's not forget that you will need to figure out how you want to word your invitations as there are so countless ways based upon so many different things, the "proper" etiquette , and what you will need to include so that your guests have all of the information that they will need for your big day.
I have actually had a few clients come to me after they have tried to create their own invitations – after they have spent countless hours frustrated because things have not worked as well as they had anticipated.  And on top of that, they had wasted money while they were trying to save themselves money.  It's just not worth it friends.
So, with all of that in mind – here is a few reasons why I believe that you should hire a stationer to design your wedding stationery!
PERSONAL ATTENTION
I work closely with every single client to create something special and unique just for their event.  You will not be working with a screen; you will be working with a real person who truly cares about the product that they are creating for you.  I want you to LOVE your stationery to the point where you are doing a happy dance when you get a first glimpse when you open that email from me, and I will strive to make that happen.
EXPERIENCE
I have created stationery for weddings of all sizes, locally and across the country!  This means that I can answer general questions and can work around unique circumstances that are thrown my way!
CREATIVITY
You will not be receiving another cookie cutter design.  I want to know what you love, and what you want out of your stationery!  So many times you will find invitations that you like but something is just…missing.  Let me help bring all of the things that you love into one piece so that it reflects your event and the unique love that the two of you share.
RESOURCES
As a member of the wedding industry I have access to vendors, and materials that many people do not.  Whether it would be outsourcing things that I am unable to personally provide, finding the perfect supplies, or by simply answering questions on etiquette I can save you lots of time by working with the people I know and trust within the industry.
LIGHTENED LOAD
Weddings can be so overwhelming and it's incredibly nice to know that you have hired an expert that you can trust to create something beautiful for your event, and who will ensure everything is done perfectly!
Did you, or do you know someone who tried to design their own wedding stationery and it did not work out as well as they were hoping?  What happened?  What were your experiences?
Also, if the whole time-line confuses you on when you should be sending out certain items such as your save-the-dates, invitations, etc be sure to check out my post Wedding Invitation Time-Line!