Make Your Website Footer Work For You
As a website designer, one of my favorite places on every website is the footer.   If you think about it, the footer is on every single page of your website.  And yet, somehow it is one of the areas that is often overlooked and in some instances not even used. If designed and utilized correctly it can absolutely make an impression with your readers, so let's be sure that you make your website footer work for you!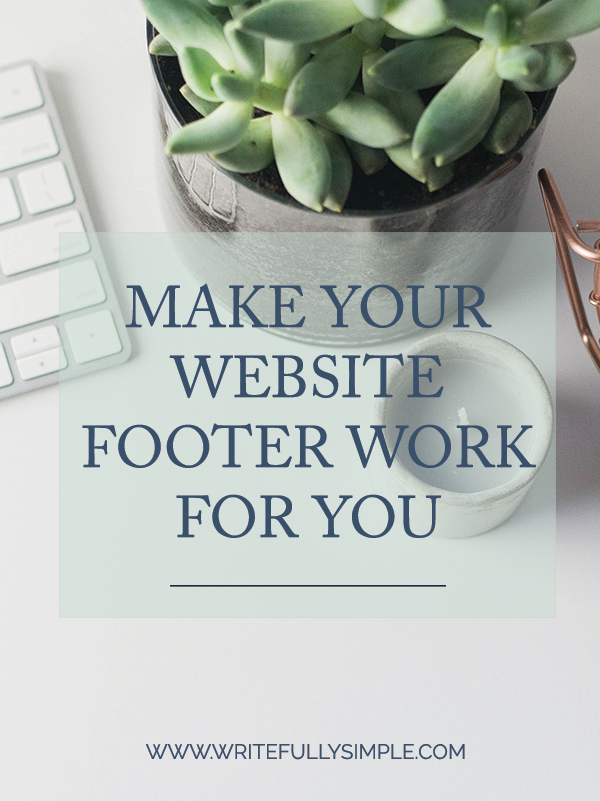 Here are a few suggestions in order to help you utilize your footer:
Add your social media handles.  Even if you include these elsewhere on your website, it's a great way to remind your readers to follow you on other social media platforms.
Add a newsletter sign-up form.  If you are trying to increase the number of e-mail subscribers, then the footer is a great place to include a newsletter sign-up form.
Add a list of recent or most popular posts.  By adding a list of your recent or most popular blog posts you encourage them to continue to read more posts on your website.
Navigation Links.  Even though your primary navigation menu is located at the top of your website, it is not a bad idea to include your links in the footer, or least list the more popular ones such as Home, About, and Contact.
Add your contact information.  Help you readers contact you easily and efficiently by including it in your footer.
Add your copyright + credit information.  Include copyright information in your footer, to show that any information in your website is indeed copyrighted.  Also, it's a great place to show credit where credit is due (i.e. website designer, copywriter, photography, etc).
Do you use your footer, and if there is something else that you love to include what is it? I'd love to hear if you think that the footer of your website is important as I do.