Wedding Stationery Time-Line
One of the most common questions I get when I am meeting with couples is when is it appropriate to send out wedding invitations and other stationery items.  I have gathered some general information and posted it below in hopes to answer some very basic questions.   This provides you all with a wedding stationery time-line, which will be beneficial for your wedding planning process.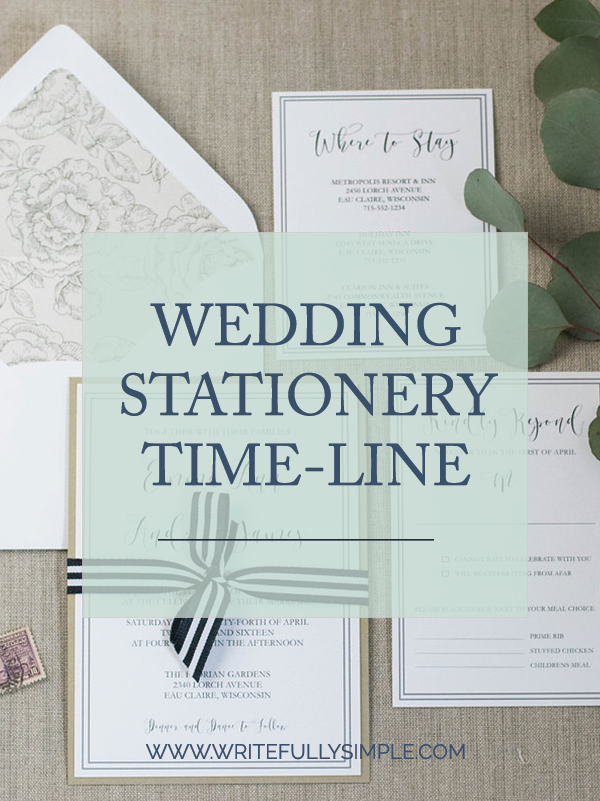 9-11 Months
Start browsing different wedding stationery to get an idea of the different styles, printing methods and other elements that you like.  Create an inspiration board and save ideas of things that you love.  Pinterest is always amazing at helping this process!
Decide on the  budget for stationery.  Do your research about what you want vs what you are actually willing to invest on your stationery.  If you are not interested in spending a lot you can find some nice designs on Etsy or Minted. But if you want something that is going to be a show stopper, and be designed just for your event I'd highly recommend working with a stationer.
Create a wedding website for your guests.  Include information such as how you met, the proposal, and as the big day gets closer you can add in useful information. such as local airports, hotels and even registry information.
Put your guest list together and start to gather their addresses.
Hire a stationer to work with so that all of your wedding stationery pieces are cohesive from the save the date to the last escort card that is placed on the table.
6-8 Months
Order your save-the-dates and get them mailed out to your guests.
Gather the important details that you will need to include on your pieces (locations, times, wedding party, response date, and return address for response cards to be sent to.
4-5 Months
Finalize the design of your wedding suite (invitation, response card and detail card).  Be sure to also order your day of paper goods (rehearsal dinner invitations, program, menus, etc)
Assemble your wedding suite.
2-3 Months
Send your invitations to your guests.  If you have a lot of guests that are needing to book flights, consider sending them out at least 8 weeks before the wedding date.
Order your thank you cards.
2-4 Weeks
Send out your rehearsal dinner invitations.
All response cards should be back in your hands, so that you can get a final count to your caterer/baker/etc.
1 Month After
Send thank you cards to your guests.
SAVE THE DATES: Save the dates are the very first glimpse into your wedding day. Traditionally they are mailed out 6 months before your wedding, while destination weddings are closer to a year. This allows your guests to have plenty of time to take time off from work, save money and book travel reservations.
RESPONSE CARDS: You will want your response cards to arrive approximately a month before you say "I do". This will allow for any stranglers to come in, time to contact guests who you have not received a response card back from, and gather your final guest count for your other vendors.
THANK YOU CARDS: Last but not least, be sure to send thank you cards to your guests! They should go out 1-2 months after your wedding.
Do you have any other questions when it comes to your wedding stationery?  Is there something that you'd add to this wedding stationery time-line?  I'd love to hear!  Be sure to comment below or send me an email and let's chat!