3 Ways to Grow Your Client List
Wouldn't it be nice to just log into your computer each day, or even every few days and just have an email or two from people who want to hire you, and see your client list continually grow? It's kind of a dream right? Well, unfortunately when you're just starting off this is not a typical situation.
When I started Writefully Simple it was a wedding stationery based business.  So it was all referrals or me charming my way into a couple's life at a wedding show.  There aren't really branding shows, so when I started to design branding and websites it was a totally different ball game.
I have found a few things that have helped me grow my client list, and they are all pretty simple.  And I know that if you apply some of these things to your own business you'll see an increase in your client list, as well.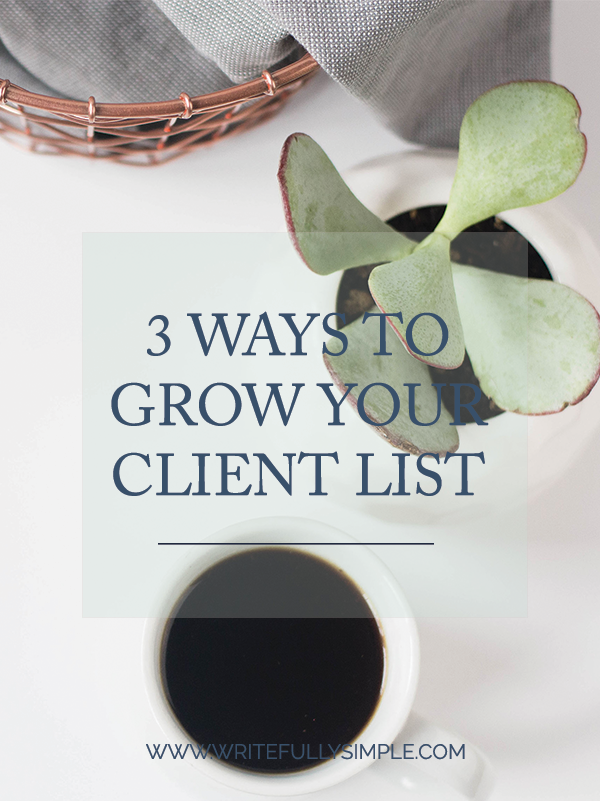 3 Ways to Grow Your Client List
Email friend and family.  This should be a bit of a no-brainer.  Unfortunately, many people have a hard time sending out these particular emails as they are afraid to come off a bit too forward.  But the truth is, these are people who should be your biggest supporters – so why not ask for help?  More than likely, your friends and family may not need your services or products but they may know someone that does.
Social Media.  Social media is huge these days, which can help you grow your client list in a few different ways.  By placing yourself in social media you can showcase your services and products, and even educate your audience which will help you establish you as an expert.  Give your audience tips, tricks, or just information regarding your field, and post images of your work so that they can see how talented you are.
Give free advice or services.  This one is honestly my favorite, and it has been an amazing way to meet some incredible people.  I love, love, love helping people with some of the most basic to the more complex problems that they may come across.  I go into the different Facebook pages that I am apart of and look specifically for the posts where someone is having an issue with their website, need advice or just looking for some ideas and I offer my services – for free.  I have done things from a simple color palette, a website audit, website refresh, and a few smaller things here and there for free.  The awesome part about this is that it allows me to build relationships with these people, show them what I can do and how I work, and it gets me into their head.  This is has paid off in more ways than one.
Now tell me, what are some of your favorite ways to grow your client list?  I'd love to hear so be sure to comment below!