How to Use an Alternate Logo
Welcome to 2018 friends!  With the new year, I am focusing on giving you all some seriously valuable information. So I've been wracking my brain and coming up with a list of blog posts that will benefit you in many different ways. This means that I dug through emails from my past and present clients and came up with some frequently asked questions and will be writing about those, as I know many of you also have these same questions popping through your head.
One of the most frequent questions that I receive from branding clients is "what is an alternate logo or sub mark". Or some also ask  "I already have a logo what is the point of having an alternate or sub logo, and how do I use it?"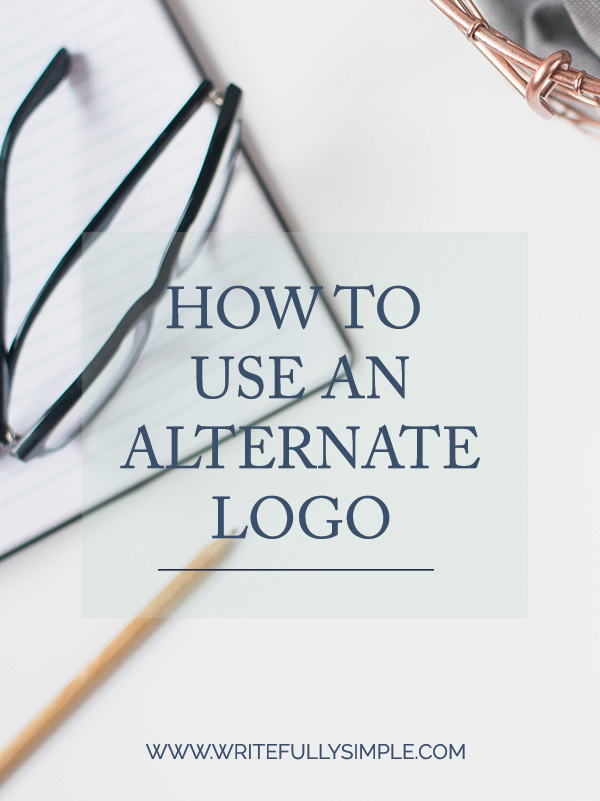 How to Use an Alternate Logo
First, let's quickly touch base on what the purpose of having a logo is.  A logo is for identification.  It identifies your business in its simplest form.  It does not sell the company or the products directly, nor does it usually describe a business.
Your logo might fit best on your website or letterhead, for example.  Now, what if you want to deliver a product to a client, such as a gift or final product? It would be a bit redundant or even a little gimmicky to just stick your logo on every single piece of your brand experience. This is where your alternate logo comes into play.
An alternate logo also fits where your main logo cannot.  So you may use it on different shaped spaces, such as stickers or on social media. Alternate logos are designed so that they can fit into smaller spaces – either as a square or vertically aligned image.
Your logo is like your name, and your alternate logo is your nickname.
What it comes right down to it, an alternate logo helps to fill out your brand elements. Having a consistent, cohesive brand is important for communicating and attracting your ideal client.
As always if you have any questions regarding your logo design or branding comment below, or let's chat about how you can take your brand to the next level!