WordPress.com vs WordPress.org
I have noticed a lot of people posting questions on Facebook in multiple groups that I am apart of with some pretty basic questions as far as WordPres. So today begins the first post of a WordPress tutorial series.  Over the next few weeks I will be going over topics to educate you on the basics on beginning a website on WordPress, plus providing you with information on various things while you are going through the motion.  In order to do this correctly I want to start from the very beginning, which is going through the differences between WordPress.com and WordPress.org.
Many people do not realize that there are actually two different WordPress platforms. They are separate from one another, and quite different from each other.  With the names being so similar it is understandably quite confusing for most people.  My hopes is that by going through this it will help you understand the differences, so that you do not choose the wrong platform when first starting off.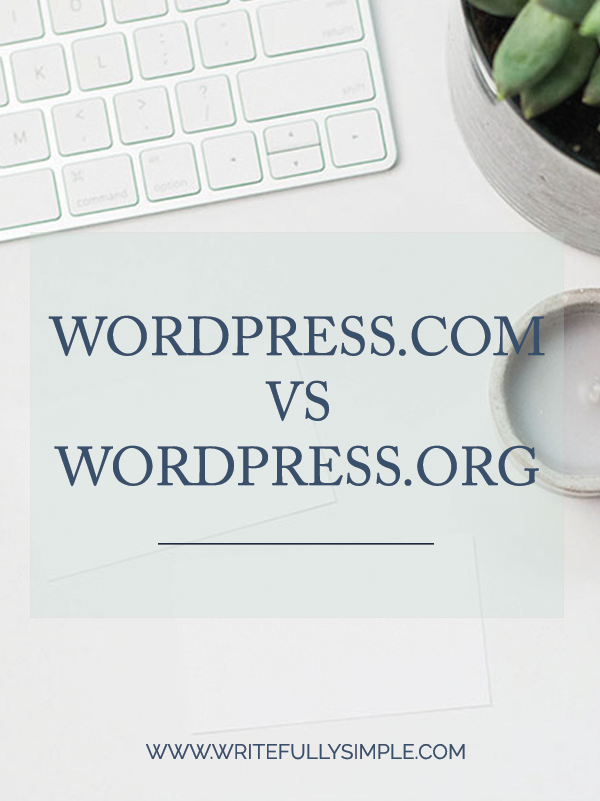 WORDPRESS.COM VS WORDPRESS.ORG
DIFFERENCE #1:  COST
WordPress.com
WordPress.com is  a free platform to use for up to 3 GB of storage space.  Although this WordPress.com is free there are also a lot of downsides.
You have to pay a domain registration fee if you do not want your domain name to also have a sub-domain. For instance, we'll just use Writefully Simple for an example. If I was on WordPress.com and didn't pay for the custom domain registration my domain would be appear as www.writefullysimple.wordpress.com, not www.writefullysimple.com.
You are limited to customization options. You are not allowed to upload any free, paid, or custom plugins on the basic/free plan.  If you want to upgrade to their premium, or business plan you will be able to have a custom domain name and also be allowed more advanced design options but you are still limited to the themes and plugins they will allow you to use.  However, the cost for these are approximately $100/year, and $300/year respectively.  Whoa, talk about expensive!
WordPress.org
WordPress.org is a paid platform, and unlike WordPress.com, it doesn't come with a set of plans for you to choose from.  The reason that WordPress.org is a paid platform is because it is a self-hosted platform.  Meaning that you will have to purchase your own domain name and hosting in order to use WordPress.com and keep it up and running.
You can purchase hosting from many different companies, and for a basic plan will run you approximately $70/year – depending on the features within your plan.  I could get more into hosting in this post, but I am going to keep these tutorials to one main topic per post, so I will touch more on domains and hosting in the next tutorial.
With WordPress.org you can upload any theme that you purchase, from WordPress or elsewhere plus use any plugins that you need. So pretty much the sky is the limit with this platform, and end up paying far less per year than if you were to use WordPress.com.
DIFFERENCE #2: OWNERSHIP OF YOUR WEBSITE
When you are on the WordPress.com platform your website is owned by WordPress, not by you.  What does this mean?  It means if you do not play by WordPress rules than they can shut your website down, without any notice.  So all of that hard work that you put into your website – all that content you have created, all the customizations – gone. Freakin ridiculous, right?!
DIFFERENCE #3:  ADVERTISEMENTS
Because WordPress owns your website they will place ads all over your website if they want to. These are usually Google ads through the Google Adsense program.  And of course, any money that is made off of those ads goes right back to them, not you.  Another bummer about these ads is that you cannot remove them from your website so they will absolutely throw off the aesthetic of your website.  Well, unless you upgrade to the Premium, or Business plan – than you'll have the option to remove them.
With WordPress.org you do not have to worry about any of these limitations. Because your WordPress.org website is truly yours and yours alone, you can place whatever kind of ads, affiliate links, and promotions you want on it. There are no rules or limits to the amount of money you can make from your WordPress.org website.
DIFFERENCE #4:  CUSTOMIZATION
WordPress.com is very limited to the amount of customizations that you can make to your website.  The simple fact is that you cannot use premium themes, or plugins on your website. You are only allowed to use themes that WordPress.com allows you to use.  And although there are a lot of free themes, there are some that cost money – which you can only use when you upgrade to a different plan.  But the truth is, even with these themes that you can use you are more than likely not going to find the right theme for your brand.  Oh and many of the themes that are provided by WordPress you are not allowed to even change things such as fonts or colors.  What?! Bye bye branding.
You also can't install plugins on your WordPress.com website.  Think of plugins as the building blocks of your website. The right ones can add features, improve functionality, increase security, and boost speed.  You can check out a recent post of my that includes some of my favorite plugins which will improve your website here!
At the end of the day, the choice is completely up to you!  Although, it can be a bit of a hassle you can always switch over to WordPress.org, if you initially decide to go with WordPress.com. Unfortunately for those that choose to use WordPress.com this is kind of the end of our time together, as the rest of my tutorials will be covering WordPress.org as that is the platform that I use and design on.  But if you are a WordPress.org user than you will want to continue to follow along, as the information that is going to be put out there is going to be ah-mazing!
Stayed tuned, as the next tutorial will go over domains and hosting.  In the meantime, if you have any questions at all please comment below or send me an email at [email protected]!